Mrs. Russell's Inventions
Here are the websites that Mrs. Sheridan recommends you use for your Inventions research project: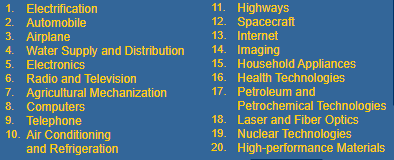 Greatest Engineering Achievements of the 20th Century: http://www.greatachievements.org/ Check the image, to the left, to see if your topic is listed.








World Book Encyclopedia
- this is a great resource for finding quick, general information about your topic. See Mrs. Sheridan for a username and password if you want to use this website outside of school.
Important Innovations and Inventions, Past and Present

: This is an alphabetical list of major inventions. Note at the bottom of each article, it says "cite this article." That will be perfect for your works cited page.
Biography Resource Center

: Once you know your inventor's name, find out how about your inventor here. If you want to use this website outside of school, you will need a username and password.
History.com: Inventions
: You can scroll through the list of inventions or use the website's search tool to find your invention or inventor.
Once you've chosen a company, you need to contact the manager to get a quote for your essay. You'll have to ask questions about how their process works and what to expect. A good
write my essay
service will tell you if they charge a fee per page, how much it'll cost, and what deadlines you should set. Once you've decided on the price, you can sign the contract and stay in touch with your company's employee. You'll also need to transfer a certain amount of money to their bank account, so you'll have an idea of how the work will turn out.